Alpenblick Farm just might be the closest thing to going to Switzerland that you may ever experience.
Surrounded by classic Swiss paraphernalia – from cuckoo clocks to beautiful oversized cowbells, Alpenblick which means 'mountain view' in German, conjures up visions of snow covered alps, animals grazing in alpine meadows, green valleys, chalet-dotted hillsides, and the bucolic sounds of cow bells.
Here, near Ashton, half an hour from downtown Ottawa, Robert and Petra have created something of an "homage" to his place of birth.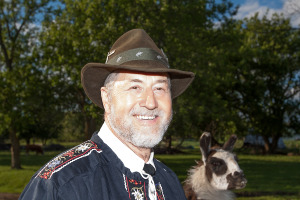 Robert grew up on a mountainside farm in the Simme Valley in Switzerland from where Simmental cattle originate. After leaving Switzerland as a young man, he spent time in England working as a chef. After an accident which left him unable to tolerate long hours of standing in a kitchen, he became a dog trainer for the Royal Airforce – for the purpose of detecting narcotics and explosives. He eventually applied for a contract in Ottawa training dogs for the RCMP and, in 1968, ended up moving to the old homestead they now share.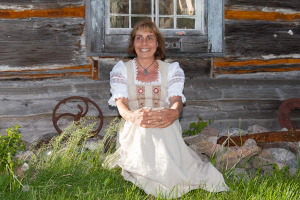 Petra moved to Vancouver Island from Germany in 1989 and wound up in the Ottawa area three years later.
Petra worked many years in billboard advertising and marketing. She has a background in personal training and teaches fitness for almost 25 years. She specializes in back problems and offers exercise programs to strengthen the core and the mind. You can find her classes advertised at the Almonte Fitness Center.
Her vast knowledge in nutrition has given her an excellent basis to help customers with advise and suggestions on how to eat healthier and heal the gut.
The glue that holds this couple together is their passion and love for their animals. Both the stock they raise for meat production, and the numerous 'pets' that have found their way into their lives, are treated with much affection and care.
We are firm believers in a natural approach to disease prevention and general livestock management. In addition to the use of organic methods, Petra sometimes practices Reiki (a type of energetic healing therapy) on her animals. Their animals are allowed to breed according to their natural cycles (ie. no use of hormones to induce estrus); they are grass fed and grass finished, and generally left to develop at their natural rate with minimal interference.