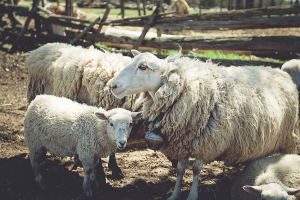 When I started taking BarleyLife, I thought it was mostly for myself and my husband, Robert. However, the more experience I have had with various AIM products over the past six years, the more they have become a significant factor for all creatures big and small at Alpenblick Farm. There are our cats, our dog, goats, sheep and cows, all in all close to 100 animals. What I have come to appreciate is having always something quickly at hand without having to call the vet every time something out of the ordinary happens.
On top of that, AIM products are safe and natural. It is a relief for me to know that I can't do damage. On the contrary, I have seen so much good come from them, even if it is not always obvious overnight. Especially since we are an organic farm, it's important to us to go without medication as much as possible.
January 12, 2014 – a milestone!
We celebrated one whole year without a vet.
With 75 animals in the barn over the winter and more outside, we thought this was a rather remarkable accomplishment! Of course, we used plenty of BarleyLife and other different products on our animals.